Grand Canadian Rockies Tour #20:
Alberta, British Columbia & Glacier National Park
Departs/Returns Calgary - 15 days/ 14 nights
HIGHLIGHTS:
· Calgary
· Waterton Lakes National Park
· Glacier National Park
· Kootenay National Park
· Revelstoke National Park
· 3-Day stay at a wilderness lake with cabins and fishing
· Kootenay National Park
· Jasper National Park
· Mount Robson
· Columbia Glacier & glacier tour
· Lake Louise
· Yoho National Park Banff National Park
· Many drives searching for wildlife.

Tour Calgary and surrounding areas. Heritage Park Historical Village with a railroad excursion and cruise on the lake. Accommodations in Calgary.

Travel south to Waterton Lakes National Park close to Glacier National Park, During our travels we visit Head-Smashed-In Buffalo Jump Interpretive Center. Waterton Lakes National Park is where the mountains meet the prairie. Rolling prairie and lake landscapes abruptly meet colorful 3,000-meter mountain peaks. During our visit drives are taken to view the large variety of wildlife available. Enjoy a scenic drive high into the mountains to a lake and picnic lunch in the wilderness. Cruise on the lake along the shoreline and pass huge mountains into the USA and Montana's Glacier National Park. Accommodations for two nights at Waterton Lakes National Park.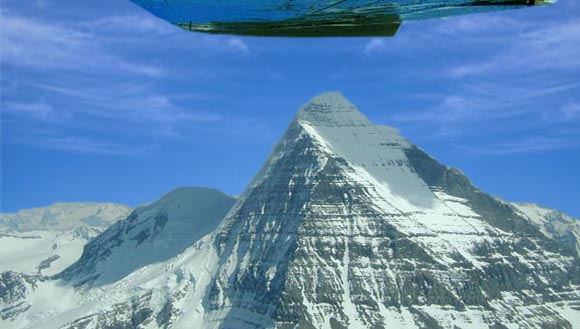 Touring along the Rockies to Kootenay National Park to Radium Hot Springs and our overnight stay. Radium Hot Springs Pools are a fully accessible complex, built around hot mineral springs in a beautiful mountain setting. Overnight stay in Radium Hot Springs.

View some of the most beautiful mountain scenery in the Canadian Rockies during your travels to the small town of Revelstoke. Today our route is up and over famous Rogers Pass. Massive Mt. Sir Donald soars up to over 10,000 feet. above us. Overnight stay in Revelstoke.

A three-night stay in modern cabins on the shores of a wilderness lake. Fishing for rainbow trout to over 5 lbs. is often available. Plenty of free time for boating, fishing, walking and in addition we will be barbecuing often and taking drives to look for wildlife. A great break in our travels.

Jasper National Park our next destination today is the largest and northern most of the four Canadian Rocky Mountain National Parks. Today we take a ferry into the wilderness and travel through the mountains looking for wildlife. Overnight accommodations are in the small town of Valemount.

Mount Robson Provincial Park for views of Mount Robson, possible wildlife viewing and a picnic lunch in this great setting. Our accommodations are in Jasper for two nights. During our stay we visit Medicine Lake, Maligne Lake and Maligne Canyon. At Maligne Lake a cruise to spirit Island is included. Options include white water rafting, an air flight around Mount Robson and a possible visit to scenic Miette Hot Springs.

The Icefields Parkway is a major scenic highway through the Rocky Mountains that stretches from Jasper to the Lake Louise area. The route, considered to be one of the most scenic mountain routes in North America, is internationally known for its rugged mountains, deep canyons, glacier-fed mountain lakes, and Icefields. The Columbia Icefield is the largest along the Great Divide separating Alberta and British Columbia. This 325 square km accumulation of ice feeds eight large glaciers. The Snocoach Tour on the Athabasca Glacier is included today. Our accommodations are located close to the Columbia Icefield.


Continuing on along the Icefields Parkway stops are made at Mistaya Canyon and Peyto Lake that is a turquoise lake perched high in the Rocky Mountains. At Lake Louise lunch is included before we take the Gondola high into the alpine meadows. Touring at Lake Louise includes stops at famous Chateau Lake Louise and Moraine Lake with its brilliant turquoise lake in the Valley of the Ten Peaks. At Yoho National Park we visit beautiful Wapta Lake over a mile high in the wilderness. Our overnight stay is in the wilderness by a river in nice cabins.

Our destination today is the world famous town of Banff. During our travels the sights we will be seeing are hard to match. Emerald Lake - Picturesque Emerald Lake received its name because of the color of its water. The backdrop of majestic, glacier-clad mountains along with the unusually diverse variety of vegetation and forest around the lake and the historic Emerald Lake Lodge, combine to create a special appeal.

From Lake Louise to Banff will be on a highway not often traveled. This parkway is a slow-speed road and offers good opportunities for wildlife viewing, especially in May and June. Upon reaching Banff there will be free time to explore the downtown area and visit the famous Banff Springs Hotel. Accommodations tonight are 15-mintues from Banff away from the crowds.

Before departing for Calgary, we will take the tram to the top of Sulfur Mountain for great views out over Banff and the mountains and valleys. In the afternoon, you will be arriving in Calgary where transportation to the airport or a motel if you are extending your visit will be provided.
Departing Mid-June
U-Drive tour <!$1499. > per person - Escorted tour <!$2959.> per person based on double occupancy.

Please request our fully detailed itinerary for this tour for more information. Escorted tours are


limited to 8 clients traveling via a non-smoking 15-passenger van.